Dental Crowns
Prosthetic Crowns at SDG Dental Wantirna
What is a dental crown?
---
Dental crowns are restorations like covers or "caps" that we place on a tooth that's been compromised. They are custom-made and shaped exactly like your own teeth, and are seated upon the damaged tooth like a "crown". They restore the functionality of the teeth, re-establish and enhance aesthetics and protect teeth from breaking, helping the treated teeth last for a longer period of time. They are also the final prosthesis placed upon dental implants, to replace a missing tooth entirely.
You can get a dental crown after a root canal treatment, if you have damaged teeth or if you have a dental implant placed. At SDG, we offer the best quality dental crowns in Wantirna to replace damaged or missing teeth.
Do I need a Dental Crown?
---
You are a candidate for dental crowns if you need to replace or restore a tooth/teeth for any of the following reasons:
Cracked, broken or fractured teeth:

If your teeth have been damaged due to breakage, it can be painful and leave you at high risk of infection. Custom-made crowns can help to protect from further damage, while restoring the tooth's function and aesthetics.

Missing teeth:

Missing teeth can be replaced by dental implants which are then covered with crowns to completely replace and restore the empty space created by the missing tooth, while also restoring aesthetics and functionality such as speech and chewing.
What is the Dental Crown Procedure?
---
Getting a dental crown is a smooth and simple process here at SDG:
First, we will remove any damaged areas and gently shave the tooth to make room for the crown.
Then we take an impression of the tooth to help us craft a custom crown that will seamlessly fit into your smile.
A temporary crown will be placed to protect the tooth while the permanent crown is fabricated in our dental lab.
Our skilled clinicians will then create the customised crown.
The temporary crown will be removed and the permanent crown will be cemented onto the tooth securely. We'll ensure it feels comfortable and looks great!
Our highly skilled and experienced dentists in Wantirna will walk you through the entire process ensuring you are comfortable and at ease during your treatment.
Types of Dental Crowns In Wantirna
---
There are different materials we can use to make your dental crown, to bring about the best results customised for your individual case.
All Ceramic or Porcelain crowns
Purely ceramic or porcelain crowns are made of aluminous porcelain material or pure zirconia or both, which provides superior strength and aesthetics. It has recently become the most favoured of all types of dental prosthesis, as it has the benefits of good strength and the most natural resemblance to the enamel of your teeth, looking like your very own tooth. These too require about 1mm deduction circumferentially and 1.5mm occlusally of your tooth structure to be removed, as they can become brittle in thinner or unsupported areas.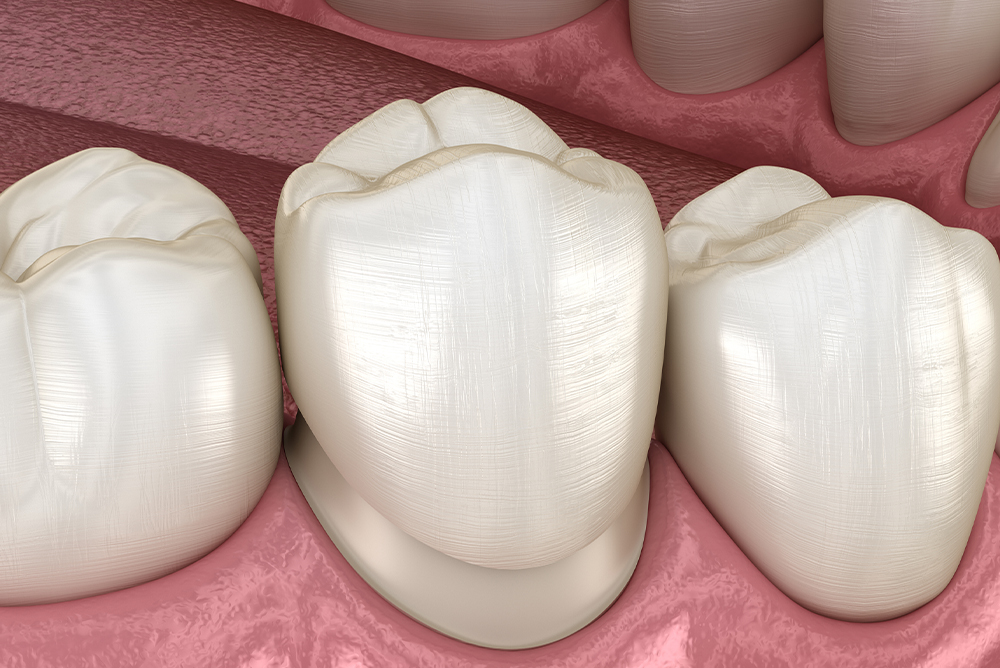 Full metal crowns
These are made completely of metal, usually with palladium, cobalt and nickel, and are usually chosen for the most posterior teeth which don't show much when you smile or speak as they are fully metal coloured. They are quite conservative and don't require much cutting of your tooth to be fabricated, usually just 0.5mm in thickness. Their main purpose is to bring back the functionality of your tooth that you use for chewing and at the same time, help to restore its resilience to fracture if your tooth has been severely compromised.
Protect your smile with dental crowns
Porcelain Fused to Metal (PFM)
Not a preferred option any longer but it still has a place in dentistry. These crowns have a metal base and a porcelain cover, combining the benefits of both the strength of metal and the aesthetics of porcelain. Since porcelain can be custom shaded, it provides an excellent option for those who need an aesthetic replacement for a missing tooth. They do require a slightly thicker layer of the tooth to be removed so as to fit into your bite and are usually around 1.5mm in thickness. It has a slightly more 'opaque' look to it as compared to your tooth due to the metal base beneath.
Come on over for a dental check-up if you need to improve your smile, be able to chew into your favourite foods without worrying and look great while enjoying a fun night out with friends! We want to help bring back the quality of your life!
How Much Does a Dental Crown Cost in Wantirna?

There are several factors that affect the price of dental crowns. These include the type of dental crown used, the number of teeth that need replacing or restoring, or the need for additional treatment.
When you visit us at our dental clinic, our dentists will first carry out a comprehensive examination of your smile before giving you an accurate estimate of the cost involved. For more information on the cost of dental crowns, contact our team or make your way over to our dental clinic in Wantirna.
Dental Crowns For Wantirna Residents At SDG
At Studfield Dental Group, we take pride in offering exceptional dental crown restorations to our residents in Wantirna.
Our modern clinic is equipped with advanced technology and an efficient laboratory to ensure precise and quality treatments all under one roof. Our friendly and compassionate dental staff is here to make your experience comfortable and stress-free.
In addition to dental crowns, we also offer a wide range of dental services to cater to your needs including general dentistry, cosmetic dentistry, orthodontics, children's dentistry and family dentistry.
Your oral health is our utmost priority. Schedule a consultation and get started on your new smile journey today!