LASER DENTISTRY
Quality dental care with Advanced Laser Treatment
First used in 1990, laser dentistry has fast become a popular method for patients interested in both safe & effective dental treatments for a wide range of dental issues, from tooth decay to emergency root canal. While relatively new to dentistry, laser treatment offers both dentists and patients several advantages that make this a treatment worth considering.
What is Laser Dentistry?
---
Dental lasers are an innovative solution that uses focused beams of light energy in order to remove/reshape tissue, activate bleaching agents in whitening treatment and even cure bonding agents, making them a considerable choice for many dental treatments.
Only dental practitioners who have specific training and are qualified to use dental lasers may offer laser treatments, as it requires a thorough understanding of how the technology works and how to choose the right laser and wavelength for your individual procedure.
In Wantirna, our dental practitioners are always staying up-to-date with continuing education and training in order to offer our patients access to the best dental care available at all times.
Benefits of Laser Dentistry
---
Laser dentistry can give you better chances of treatment success with minimal pain and less recovery time. They also reduce the need for conventional dental drills and tools, which we understand may cause apprehension and anxiety in our clients. As an advanced treatment option, this offers many benefits to dental patients, including:
Shortens treatment and recovery time
Minimises bleeding and inflammation
Reduces scarring and damage to surrounding tissues
Reduces the risk of an infection
Stimulates tissue regeneration and healing
Reduces anxiety and discomfort
Usually doesn't require anesthesia or stitches.
Increased accuracy and precision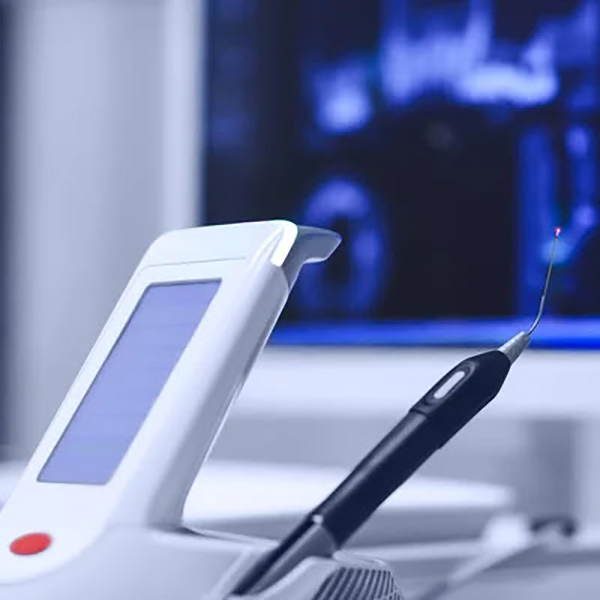 What can laser dentistry be used for?
---
Laser dentistry can be used for a range of cosmetic dental and restorative dental treatments. At your consultation, we will line out the approaches available to you so you can make an informed decision.
Tooth decay
Dental lasers can be used more efficiently than a conventional dental drill to cut or shape tooth enamel when preparing for a filling, and can further help with bonding the filling to the tooth. They may also be used to remove decay during root canal therapy. You can also visit the Fotona official website to learn more about how this technology can save your smile!
Gum disease
Any diseased or inflamed gum tissue can be efficiently removed with less of the surrounding healthy tissues affected by the procedure. Lasers can also be used to expose tooth roots to remove underlying plaque. This is a significant improvement when compared to manual procedures. You can watch this video for more information on using dental lasers for gum disease.
TMJ Disorder
TMJ Disorder is a painful condition that can radiate pain all the way to your head and neck. Low level lasers can be used to reduce this pain and inflammation along the joint and surrounding tissues.
Impacted wisdom teeth
Laser treatment can be used to remove gum tissue in order to expose and treat wisdom teeth that have partially erupted or are stuck in the gum.
Stained teeth
Laser dentistry can be used to activate the bleaching agent used in whitening treatment, and as a result, speeds up the process.
Gummy smile
Conscious of your smile and feel like it may be too gummy? Laser treatment can be used to reshape your gum line or remove excess gum tissue in order to show more of your teeth.
Biopsy
If you're suffering from ulcers or lesions in your mouth, laser treatment can be used as pain relief or in order to remove tissue for a biopsy.
Less pain & faster treatments at SDG
Types of Dental Lasers
---
At SDG, we are proud to offer laser dentistry treatment options in order to deliver happy and healthier smiles for our dental patients in Wantirna. As opposed to manual or conventional dental tools, laser treatments help provide the best results for your dental procedures in a shorter timeframe and with minimal discomfort.
Soft tissue lasers – These specialised lasers are highly effective for soft tissue removal and management since they are able to penetrate soft tissues and seal nerve endings and blood vessels, with next to no pain felt by our patients. It also promotes faster tissue healing
Hard tissue lasers – These lasers are better equipped to penetrate dense tooth structures with extreme precision, making them the ideal choice for removal of tooth structure or prepping your tooth for bonding.
Fotona LightWalker – The LightWalker dental laser allows us to offer gentle and minimally invasive dental care for our patients. Using a focused beam of light, the Lightwalker laser can efficiently address tooth decay and several soft tissue concerns, including gum recontouring, wisdom tooth extractions, gum disease therapy etc. It can even be used to treat cold sores. Learn more about how we can help you using the Fotona LightWalker in this video.
Laser dentistry patients have a more stress-free post-op experience. Since there is much less pain and bleeding involved, as well as no open wound that needs caring for, patients usually just have to follow a good oral hygiene routine to avoid infection.

Is Laser Dentistry Safe?
---
Yes! There's no need to be worried about laser dentistry. Laser technology is considered safe and effective when performed by trained professionals, and helps complete many treatments faster.
If laser treatment is the right procedure for you, we will explain the process thoroughly and answer any questions you may have. Our qualified professionals have extensive training and experience using dental lasers to help our patients benefit from faster, pain-free dental treatments so give us a call today for more details!
Why Choose SDG for Non-Invasive Laser Dentistry?
---
At SDG, our goal is to provide the best quality dental care to all our patients in an effective, safe and pain-free manner. That's why we offer a wide range of laser treatments for you. If you are anxious about visiting the dentist, you can rest assured because our dentists have extensive experience using lasers for dentistry.
When you choose SDG Dental, your smile and oral health will be in capable hands. We also provide sleep dentistry solutions to help you with your dental fears. Contact us for more information!