Orthodontics in Wantirna
Get the best orthodontic treatment for you
What is Orthodontic Treatment?
---
Orthodontics is a branch of dentistry concerned with correcting teeth positions and improving the appearance of the jaw and facial features. In most cases, orthodontic treatment involves braces on the upper and lower teeth. Individuals with poor jaw alignment may require extra treatment in the form of either orthopaedic appliances or surgery.
Common dental issues treated by our orthodontists in Wantirna include:
Crooked teeth
Crowded teeth
Misaligned teeth and jaws
Excessive spacing between teeth
Problems with your bite (crossbite, overbite, underbite)
What we offer
---
At SDG Dental, we provide our patients with free orthodontic consultations in order to find the right solution to fit their individual needs. Depending on the severity of your misalignment, your age and even your lifestyle preferences, we have a range of treatments available for you to choose from, including:
Conventional Braces
Damon System Braces
STb Social 6 (lingual braces)
Clear Correct
Orthopaedic Appliances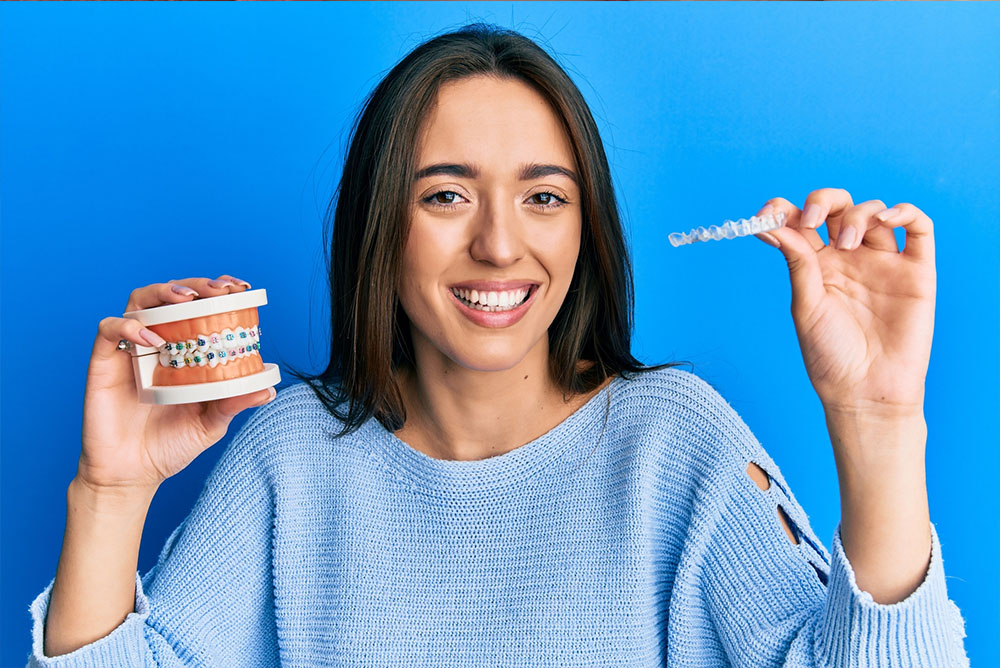 Types of Orthodontic Treatments in Wantirna
---
Conventional Braces
Conventional braces consists of wearing bonded/ cemented brackets to your teeth which hold flexible wires in place using clear or colourful bands to attach. These wires exert pressure and gently move your teeth into their correct position.
Regular 4-8 week appointments are required to change these colourful bands and wires. Conventional braces take approximately 12- 24 months to complete; however, this is case specific.
Once completed the braces are removed and a removable retainer is to be worn.
Damon System Braces
Damon Braces are an orthodontic treatment that provides a great alternative to conventional metal braces. These discreet-fitting braces ensure greater patient comfort and can be attached to your teeth in just one visit. They are available in metal and clear brackets and are suitable for teenagers and adults.
Advantages include:
Smaller brackets for greater comfort
Clear brackets are less noticeable
Self-ligating wire = no discolouration to elastic bands
Clear Correct
---
Clear Correct are your invisible and convenient alternative to traditional orthodontic braces. This treatment requires patients to wear a series of clear aligners, which are replaced every 2 weeks. Treatment time is also shorter than most other orthodontic treatments. Contact us today to find out more about our Clear Correct prices.
No braces approach
---
The No Brace approach involves wearing functional removable or bonded orthopaedic appliances. These appliances correct jaw misalignment and crowded teeth. No Brace is subject to the patient's age and degree of malocclusion and crowding.
Get a straighter smile faster at SDG
Benefits of orthodontic treatment
---
There are several benefits to getting a straighter smile, and some of them are related to your health too!
Improves your overall appearance
Orthodontic treatment can completely transform your smile! Wearing a confident smile not only changes how you feel about yourself but also influences how others see you. Whether you're hanging out with friends or hustling in your career, a great smile can make a positive difference in many areas of your life.
Improves oral health
Properly aligned teeth can reduce the risk of plaque buildup, cavities, and gum disease since straighter teeth are much easier to clean and maintain. There's far less chance of bacteria lurking in areas your toothbrush can't reach due to misalignment. This means better oral hygiene and a lower risk of dental problems in the future.
Better alignment of bite
Orthodontic treatment can correct issues with your bite, such as overbites, underbites, crossbites, and open bites. Proper alignment can improve your ability to chew and speak effectively, as well as reduce stress on your jaw joints and muscles.
Preventive Measures
Addressing misalignment early through orthodontic treatment can prevent more serious dental issues from developing later in life. Investing in a healthier, more functional smile now can contribute to overall well-being and potentially reduce the need for extensive dental work in the future.
What's the best age to start Orthodontic Treatment?
---
The best time to start treatment would be between 7 and 10. You may think it's too early for your little one to get treatment at that age. However, since this is the age when the jawbones and teeth are still developing and malleable, it makes it easier for our dentists to make the necessary adjustments.
Early orthodontic intervention can provide many benefits, such as improved confidence, prevention of long-term dental issues and costly treatment, and clarity of speech. However, orthodontic treatment is suitable for all patients regardless of their age.
Why Choose SDG for Orthodontic Treatment in Wantirna
---
A straight, aligned smile can work wonders on your confidence. At Studfield Dental Group, we want all our patients to have confident and healthy smiles. Our team of experienced dentists are committed to providing the best orthodontic care to make this possible.
In addition, we also offer a comprehensive range of dental solutions in Wantirna, including emergency dentistry, family dentistry, sleep dentistry and much more to meet all your dental needs. Contact us or schedule an appointment to learn more!