Four Big Benefits of Dental Implants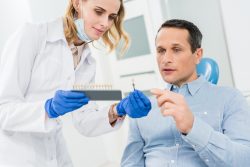 If you need to replace missing teeth, one of the best options to consider is our Wantrina South dental implants. Compared to conventional tooth replacement treatments like dentures or bridges, implants have their own unique benefits that make them the right choice for restoring your smile.
They Can Last the Rest of Your Life
Implants have the highest success rate of any dental restoration (close to 98%). But once they've fully integrated with your smile, don't expect them to go anywhere. Investing in implants is a choice that's meant to stay with you for decades to come.
They're Stronger Than Natural Teeth
An implant can support more weight than any healthy tooth. That's what makes it so successful to anchor multi-tooth restorations on top of pairs of implants. As few as four implants total can support a full arch prosthesis!
They Mimic the Appearance of Real Teeth
Your new implants will blend in with your smile, so that nobody else knows they're there. Since implants are shaped to resemble a natural tooth root, there won't be any bulky or removable prosthetics that interfere with your speech, laughter, or smiling for photos.
They're Non-Invasive to the Rest of Your Smile
One of the biggest advantages of implants is that they don't alter the health or integrity of the teeth next to them. Treatments like bridges have to be set on top of healthy, altered teeth. But an implant stands independently of everything else. Filling in the open space from a missing tooth can even help you retain natural tooth alignment and a straighter smile.
Do You Qualify for Dental Implants?
Find out if dental implants are right for you. Contact Studfield Dental Group in Wantrina South to schedule a consultation. We're conveniently open on Saturday and Sunday to accommodate your busy lifestyle!