Cosmetic Dentistry
Reveal your best smile and shine with confidence
What Is Cosmetic Dentistry?
---
Cosmetic Dental Care is the area of dentistry that focuses on improving the aesthetic appearance of your smile and bite, making you more confident. At SDG Dental, we offer a variety of cosmetic options, including dental implants. Whether you're looking to improve on something as simple as stained teeth and teeth whitening or more complicated corrections like chipped teeth with gaps, cosmetic dental care takes care of all these concerns and leaves you with a happy, healthy smile!
Cosmetic dentistry is not all about aesthetics, however. It's also about improving functionality. So, if you want to improve the aesthetics of your smile and the functionality of your teeth, cosmetic dentistry is for you!
Types Of Cosmetic Dental Treatments
---
Restore Your Smile With Dental Implants
Implants are the ideal, long-term solution to replace missing teeth. Dental implants replicate tooth roots and are surgically placed into the jawbone. They are made of titanium and rely on Osseointegration, the process where the implant integrates with the jawbone, to form a strong bond and foundation to support the crown prosthesis that is placed onto the fixture.
For dental implants to be successful each candidate must:
Have adequate bone quality and volume
Meet general medical requirements
Practise good oral hygiene

A consultation is required to assess whether dental implants are the best option for you. If you don't have enough healthy bone available, All-On-4 Implants may be an available solution. At this consultation bone levels will be assessed with the use of dental imaging and in-chair examinations. If you don't have sufficient bone density, our dentists may recommend a bone graft or general dentistry solutions to improve your oral health.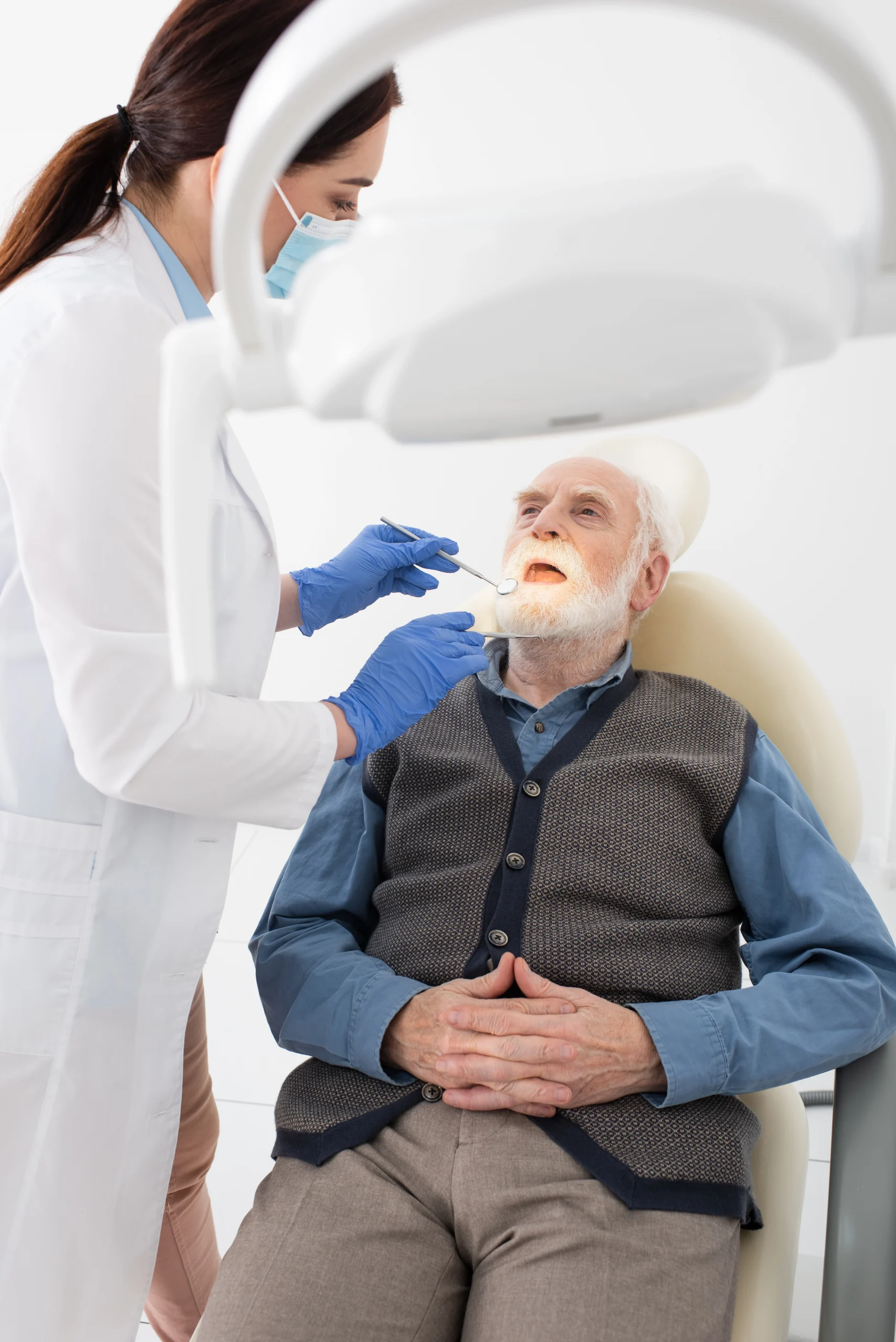 Cosmetic Dental Veneers
---
Dental veneers improve the aesthetic appearance of your smile. They are thin, custom-made shells bonded to the front of your teeth that help address a range of cosmetic issues, such as discoloured, chipped or slightly crooked teeth, without the need for whitening or orthodontics. While teeth whitening is the first solution to treat discoloured teeth, veneers are a great solution for more severe cases where teeth whitening is not an option.
You may be a candidate for veneers if you have:
Slightly crooked teeth but do not wish to have braces.
Spaces between your teeth but do not wish to have braces.
Naturally/ genetically small or irregularly shaped teeth that you wish to make larger, wider or longer.
Discoloured teeth from trauma, root canal treatment or general staining.
Chipped or broken teeth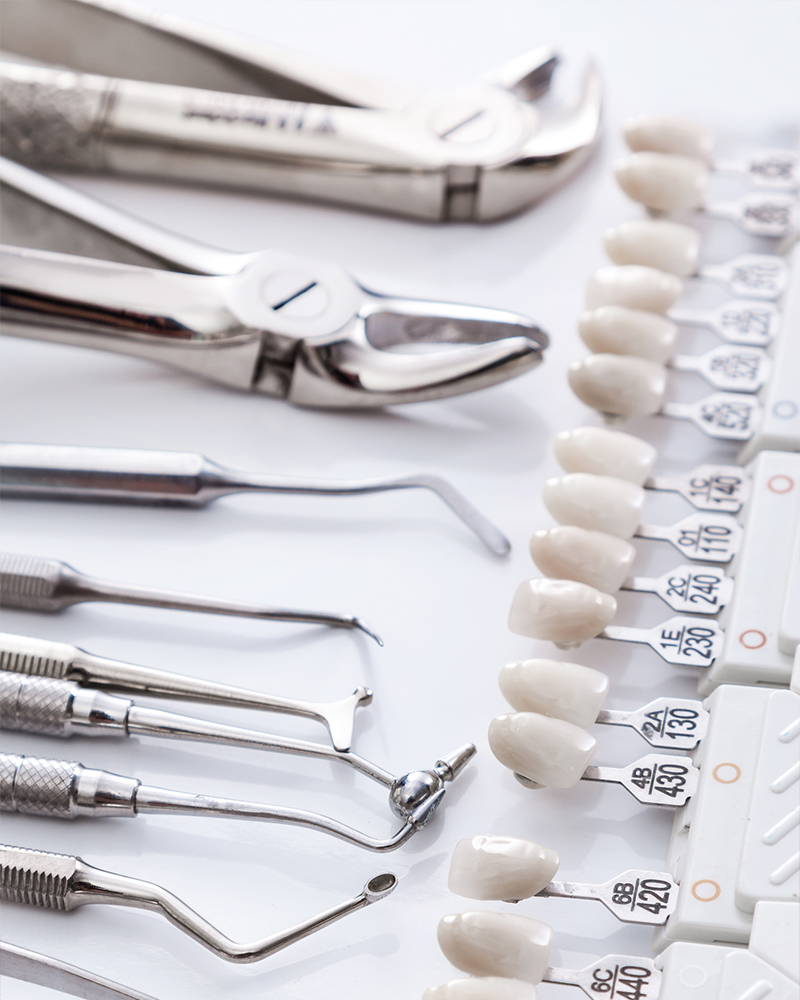 Types of Dental Veneers
---
We offer our patients the choice of two types of cosmetic veneers – Porcelain and Composite.
Porcelain Veneers
Porcelain material is used to create strong and durable veneers with high stain resistance.
With meticulous professional care, regular maintenance appointments and optimal at home oral hygiene behaviours, porcelain veneers can last upwards of 15 years.
Porcelain material is effective in its ability to reflect light and match existing natural teeth.
Porcelain veneers are made by a specialist prosthodontist in a laboratory indirectly before being bonded to your natural tooth. Therefore multiple appointments are required.
Composite Veneers
Composite material is used to build-up your natural tooth directly in your mouth in a single visit.
Composite veneers can achieve the same aesthetic improvement as porcelain veneers. However, composite veneers are less durable than porcelain and will need to be replaced more frequently.
Composite veneers are less stain resistant in comparison to porcelain veneers.
Transform your smile at SDG!
Benefits of Cosmetic Dentistry
---
Cosmetic dentistry offers a wide range of benefits including:
Improved Appearance: Corrects various issues like stained, misaligned or chipped teeth.
Comfort and functionality: Enhances the function of your teeth, making chewing and speaking comfortable.
Long-lasting results: Cosmetic dental work can provide long-lasting improvements allowing you to enjoy the benefits for years to come.
Natural-looking results: Use of modern techniques aims to create results that look and feel completely natural.
Customised solutions: Our personalised treatments address your unique needs and goals.
Other Cosmetic Dental Treatments
---
Porcelain Inlay and Onlay Restorations
Porcelain inlays are an indirect restoration (filling) made of a solid porcelain substance. This is fitted to a cavity in a tooth and cemented into place. Inlays involve fabricating the restoration outside of the mouth using the dental impressions of the prepared tooth. An onlay is the same as an inlay, except that it incorporates a replacement for a tooth cusp by covering the area where the missing cusp would be.
Emax Porcelain Veneers
These types of veneers are more commonly used to replace congenitally missing teeth in young mouths that are not ready for final implant and crown restorations until age 21. Emax is another type of porcelain veneers. Made from high-quality, durable porcelain material, Emax offers a natural and lifelike appearance, custom-made to enhance the beauty of your teeth while preserving their strength.
Maryland Bridges
The Maryland Bridge consists of a prosthetic tooth (pontic) that fills the gap by the missing tooth and is attached to the adjacent teeth using a metal or porcelain framework. It is a less invasive option, unlike traditional bridges that require the removal of some enamel from the neighbouring teeth to support the bridge. Maryland bridges are bonded to the backside of the adjacent teeth using a strong dental adhesive. This makes the natural structure of the neighbouring teeth remain intact.
Bonding
Cosmetic bonding is a simple and easy option for patients who have slightly crooked or discolored teeth. In this process, a composite material made according to the natural shade of your teeth is bonded to the front of your tooth in order to cover any irregularities.
Gum Recontouring
Are your gums disproportionate to the level of your teeth? If you feel like you have a gummy smile, our gum recontouring process will help your teeth become more visible and balance out a beautiful, aesthetic smile!
Smile Makeover
Our smile makeover is a personalised and comprehensive approach to address various cosmetic dental concerns to achieve your dream smile. Every aspect from the shape and colour of your teeth to the alignment of your smile is meticulously considered to craft the perfect result for you.
Cost of Cosmetic Dentistry in Wantirna
---
The cost of cosmetic dentistry can vary widely depending on individual factors, specific treatments and the complexity of your dental needs. It's always recommended to schedule a consultation with a reputed cosmetic dentist such as Studfield Dental Group to get a more accurate breakdown of your cost.
Your Trusted Cosmetic Dentists in Wantirna
---
At Studfield Dental Group, we understand how a healthy, beautiful smile can impact your life. We want to help you achieve that dream smile with our comprehensive range of cosmetic dentistry solutions.
Our dentists will work with you to help you enhance your smile just the way you want it. We also guarantee comfort, convenience and quality dental care for all our patients. If you want to find out more about our cosmetic dentistry options or to transform your smile and achieve a radiant new look, call our friendly dental professionals to book a consultation.