Sleep Dentistry
Sedation dentistry at SDG Dental Wantirna
Having a fear of the dentist or dental anxiety is quite common. We at SDG Dental understand your fears and want to help you through them while providing the dental treatment you need. We offer sleep dentistry in various forms to help you deal with your dental fear, lengthy treatment times or discomfort, and get the treatment you need.
The main goal of sleep dentistry is to ensure that you receive access to the dental care you need without the stress or anxiety that may prevent you from seeking treatment.
What is Sleep Dentistry All About?
---
The basics of sedation dentistry are simple: you are sedated to a certain degree while your treatment is performed by us. After your procedure is over, you come back to full consciousness and realise you never had to face the fear, pain or anxiety you felt while sitting in the dental chair.
To be more specific, it involves the use of pharmacological agents or drugs known as sedatives, which act by exerting a depressive effect on your central nervous system, in those areas typically concerned with controlling conscious awareness.
The highly experienced mobile certified anaesthetic company Advanced Dental Anaesthesia Solutions (ADAS) comes to Studfield Dental Group to perform the sedation and ensures that your entire treatment is fully monitored until you are completely recovered.
The Levels of Sedation
---
Various levels of sedation can be achieved according to the needs of our patients, such as minimal, moderate and deep sedation. These represent the levels of consciousness of the patient under sedation, which corresponds to the degree of central nervous depression achieved by the sedatives.
Minimal Sedation

You are still conscious and responsive to your surroundings, feeling less anxiety and more at ease. It is commonly used for patients with mild anxiety or to alleviate discomfort during routine dental procedures.

Moderate sedation

This relaxes you further, but a larger stimulus is needed to trigger your response. Patients under moderate sedation are still conscious and able to respond to verbal commands.

Deep Sedation

It is only under deep sedation that you are completely unaware of your surroundings and do not respond to any external stimulus. Patients are on the edge of consciousness but can still be awakened if necessary.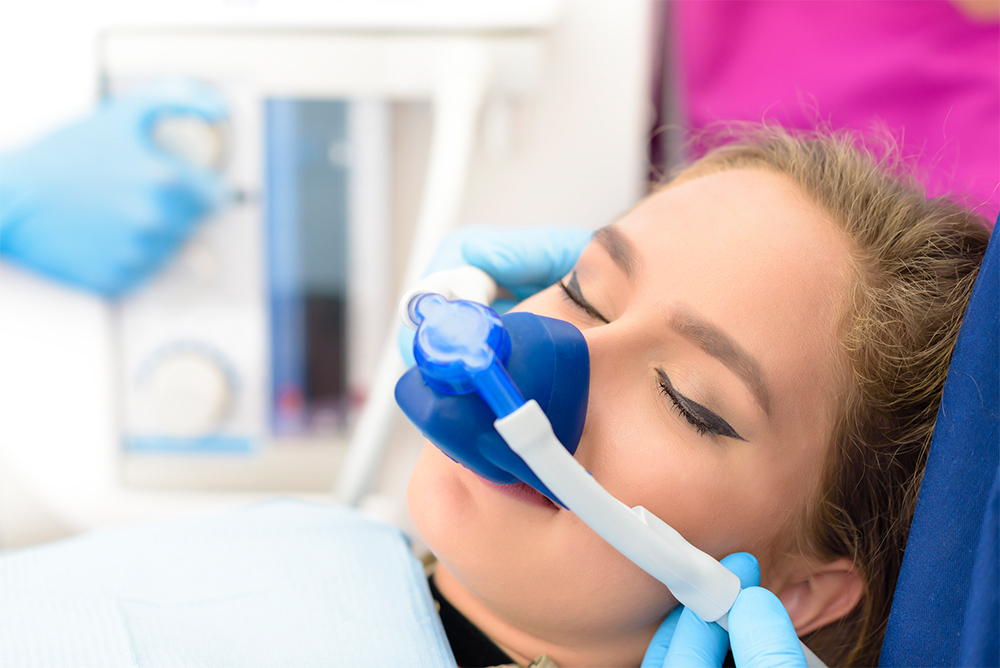 Types of Dental Sedation in Wantirna
---
There are different types of sleep dentistry methods that may be used, according to what level of sedation you need.
Inhalation Sedation
This form of sedation involves providing Nitrous Oxide gas, also known as ''laughing gas'' or ''happy gas''. It allows slight analgesic effects and you are not completely unconscious while under sedation. It gives a feeling of light-headedness and reduces anxiety. This can be used for many types of treatments, from simple procedures such as teeth cleaning, childrens dentistry and general dental fillings to more complex solutions like a root canal or tooth extraction!
The entire process is rather quick. Since the gas leaves your system fast, you'll feel completely normal in a matter of moments and should also be able to get yourself home alone after the dental procedure.
Oral Sedation
Sedatives are given orally in liquid form, normally a few hours before the dental procedure is scheduled to take place. This, too, is very simple. Depending on the treatment, it is a preferred sedation for children in paediatric dentistry, though it does have a slightly longer recovery time.
Since this type of sedation is stronger than nitrous oxide, we recommend having someone accompany you for the dental procedure so you can be safely taken home after the appointment.
Intra-Venous (IV) Sedation
The sedative drugs are given directly by an IV line, into your bloodstream. This is the most effective and the quickest form of sedation that can be given to anyone who has to undergo a major dental procedure, and is preferred for lengthy, complicated cases such as extractions of all four wisdom teeth, complete mouth rehabilitation and other complex dental surgeries. Patients are completely unconscious with no awareness of time and place, and feel absolutely no pain.
Ease your dental anxiety with sleep dentistry
Benefits of Sleep Dentistry
---
Do you find yourself nervous when it comes to receiving dental treatment? If you suffer from dental anxiety, this often means that you might avoid coming in to see your dentist for years! This lack of professional dental care will gravely impact your oral health and we're here to help stop that from happening.
Sleep Dentistry can offer you several benefits including:
It is a great way to help you relax and ease dental anxiety during your appointment.
Ensures minimal discomfort and reduces pain during treatments.
Time efficiency as it helps our dentist get a lot done for you in the course of just one appointment.
Many patients who have opted for sleep dentistry have reported feeling far more comfortable with the idea of visiting the dentist in subsequent appointments.
Sleep dentistry can be used for a variety of dental treatments from routine cleanings to complex surgeries.
Sedation is closely monitored by our dental professionals, ensuring you have an effective and safe experience.
Improved overall health as it encourages regular dental visits contributing to better long-term oral health.
Are you a Candidate for Sleep dentistry?
---
Sedation is meant to ease your dental anxiety and to help those who absolutely cannot be treated by the dentist without it. It is beneficial for both the patient and the dentist, as it makes things a lot simpler for us to treat a highly dental phobic patient while they experience a pain-free and anxiety-free procedure.
You may want to consider sleep dentistry for the following reasons:
Have dental phobia, dental anxiety or general anxiety
You are extremely nervous
Have a strong gag-reflex
To make a lengthy dental procedure more comfortable
Wish to have all your dental treatment covered in a single visit
If you are undergoing extensive oral surgery such as full mouth reconstruction, multiple implants or wisdom teeth extraction.
At Studfield Dental, all we want is to be able to provide you with the best dental treatment options we have to offer, through sedation or not, so that your smile and dental health can be made perfect at our clinic.
Is Sleep Dentistry Safe?
---
Absolutely! Sleep dentistry can be a safe and suitable option for addressing your dental anxiety. Before proceeding, we'll thoroughly review your medical history and discuss the different levels of sedation available, tailoring the approach to your needs. Our experienced team is well-versed in administering sedation while closely monitoring your well-being throughout the treatment.
We prioritise your safety, comfort, and understanding, providing clear pre- and post-procedure guidelines. Your dental health and peace of mind are our utmost concerns, and we're here to support you every step of the way.
Cost of Sleep Dentistry in Wantirna
---
The cost of sleep or sedation dentistry depends on several factors, such as the dental treatment being performed and the type of sleep dentistry method used. A rough estimate (which is subject to change according to the previous factors) is about $500 to $1200 per hour.
When you visit us for a consultation, our dentists will be able to provide an accurate estimate of the cost of treatment after assessing your mouth and determining the best sedation dentistry method for you!
Discover your brightest smile with SDG Dental
---
At Studfield Dental Group, we are committed to staying at the forefront of dental technology. To ensure you receive the most efficient care available, our clinic is equipped with the latest facilities with a team of dedicated dentists that have years of experience utilising sleep dentistry techniques to help our patients relax during treatments.
We offer a wide range of dental services under one roof. Whether you require general dentistry, cosmetic dentistry, orthodontics or dental care for your family, we have you covered.
When you choose us, you're choosing a dental home where your oral health and satisfaction are our main priorities. Schedule a consultation with us today and receive the dental care you deserve.