All On 4 Dental Implants
All-on-4 Tooth Replacement in Wantirna
All-on-4® dental implant therapy is an advanced and innovative procedure used for smile rehabilitation. Consequently, it may also help improve the quality of life for our Wantirna patients with missing teeth who are currently wearing removable prosthetics. This also applies to patients with a degenerative dentition that has a poor prognosis.
With an All-on-4 implant procedure, you can gain the confidence of a fully functioning smile without a removable prosthesis, such as full dentures. The unique process incorporates the latest dental implant technology, predictability, and support to provide full mouth reconstruction in a predictable and minimally invasive manner.
What is ALL-ON-4 Treatment?
---
The All-on-4 dental implant approach was developed over many years and was more a modification to regular implants rather than a new invention. Since 1990, experienced implant providers worldwide have delivered a solution for full mouth rejuvenation that allowed the use of strategically placed implants and a hybrid restoration instead of bulky dentures.
Modern titanium dental implants have exceptional durability. They can be placed at specific angles in the posterior jaw without compromising their supportive capabilities even in weak or thin bone. As a result, this helps support the surrounding structures of your facial profile, while you enjoy improved biting and chewing.
These restorations offer long-lasting solutions that are far easier to maintain when compared to other common restorative treatments. The proven success rates ultimately ensure the best outcome for your oral health and appearance.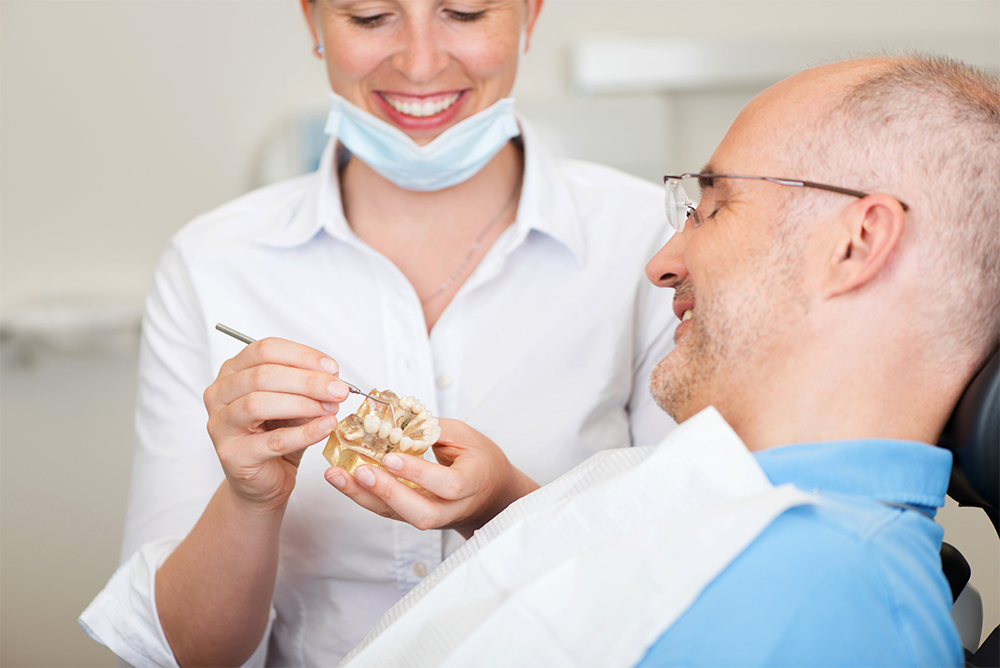 A new smile in just a few days
---
Most All-on-4 implant protocols require 1-3 days for completion, depending on the difficulty of your case. Because each of the four supporting implants are placed in selective locations, there is no or minimal bone grafting necessary (allowing for faster and gentler post-operative recovery.)
After your four implants are installed by one of our experienced Wantirna dentists, we will attach a permanent, full-arch hybrid restoration that spans the entire width of your smile. It will be attached the same day, or 1-2 days after the implant surgery.
This simple and effective method is a great dental treatment for those who desire a non-removable alternative to dentures. The All-on-4 treatment become a permanent addition. It's an invigorating way to enhance your best feature — your smile!
Our All-On-4 Implant Process
---
What would you do to have an entirely new set of teeth in just a few days? Here's what your general experience will look like:
Pre-op

Your preliminary appointment will include a thorough evaluation of your oral anatomy, a series of photographs, digital X-rays, and impressions of your mouth. We'll need all of this information to map out and plan your treatment in order to ensure it's successful as possible. During this visit we will answer any questions you have and schedule you to come back for the start of treatment, which is usually broken up into three separate visits.

Implant Placement

At this visit we will numb each area of your mouth where the implants are being installed, then create a small opening to set them into the bone. Implant surgery is a minimally invasive procedure with a relatively rapid recovery. After each of the four implants are installed, we take an impression of your mouth so that the lab can begin designing the teeth to go on top of them.

Although this visit can be completed with a small amount of local anaesthetic, some people prefer to schedule the procedure under sedation or general anesthesia especially where more complex bony surgery or extensive extractions are required. We are happy to discuss your preferences to ensure the most relaxing experience possible.
Replace a full arch of teeth with All-On-4
Cost of All-On-4 Treatment in Wantirna
---
The cost of All-On-4 treatment can depend on several factors such as your unique condition, sleep dentistry techniques, and any other additional procedures that you may need. To get a more accurate cost estimate, it is best to consult with one of our dentists for a personalised quote and to discuss your specific condition and treatment plan in detail.


Choosing the Best Implant Dentist
---
Some people seek out dental tourism facilities to keep the cost of their implant treatment as low as possible. However, there are some serious factors worth considering, such as the type of training received by the dentist, follow-up care, manufacturing standards, and success rates of the provider.
Our Wantirna dentists have over 25 years of experience guaranteeing quality care to patients from a diverse range of backgrounds. We're committed to exceeding oral health standards and safety protocols to ensure our patients well-being at all times.


ALL-ON-4 Consultation in Wantirna
---
Not everyone qualifies for All-on-4 therapy, but most people do. When you meet with our experienced Wantirna dentists, we' will evaluate your oral health and anatomy to ensure that implants are the right treatment for you. With over 25 years of experience serving the Wantirna community, we can discuss the advantages of this unique procedure and if it's ideal for your particular situation.
Should you qualify, we'll discuss the first stages of care and what's involved, including affordable payment options.
We also offer a wide range of dental services such as general dentistry, cosmetic dentistry, orthodontics, family and emergency dentistry and much more to cater to all your dental needs.